26 Apr 2009
Remember The Milk Plasmoid moved to kdereview
You may remember me blogging about the remember the milk plasmoid before. I've finally had more time to work on it, and yesterday (wow, it's that late) I re-enabled the rest of the features that had gone missing in the last few weeks. This marks another milestone, the applet is now in kdereview.
Around the start of April I felt that it was in that 'almost ready' stage, so I went and took a second look at the choices I had made in the library and dataengine. Wow, it's amazing how some decisions that seemed like fine solutions at the time turn out to be horrible hacks. I ended up rewriting a huge portion of the library to be more consistent and qt-like. This provoked a cascading effort to rewrite the dataengine to actually be useful and then the plasmoid to use the dataengine instead of bypassing it.
The rememberthemilk plasmoid has certainly changed since I started working on it in early January. It has transitioned through a number of stages, from concept to library to plasmoid to dataengine and then some. The data engine is a heavy user of complex sources, services and jobs. The plasmoid relies entirely on the dataengine, it doesn't even link to the library. The library makes use of KDE technologies such as KIO and has a very kde like api.
Hopefully the plasmoid is just the start. I've already started on an experimental Akonadi resource, modeled after the wonderful Google Data resource. I'm also contemplating a KRunner plugin. Wouldn't it be great to add tasks with "rtm newtask My New Task due Thursday" or similar? It could also support search queries.
Below is the first iteration of the plasmoid, and then its current state.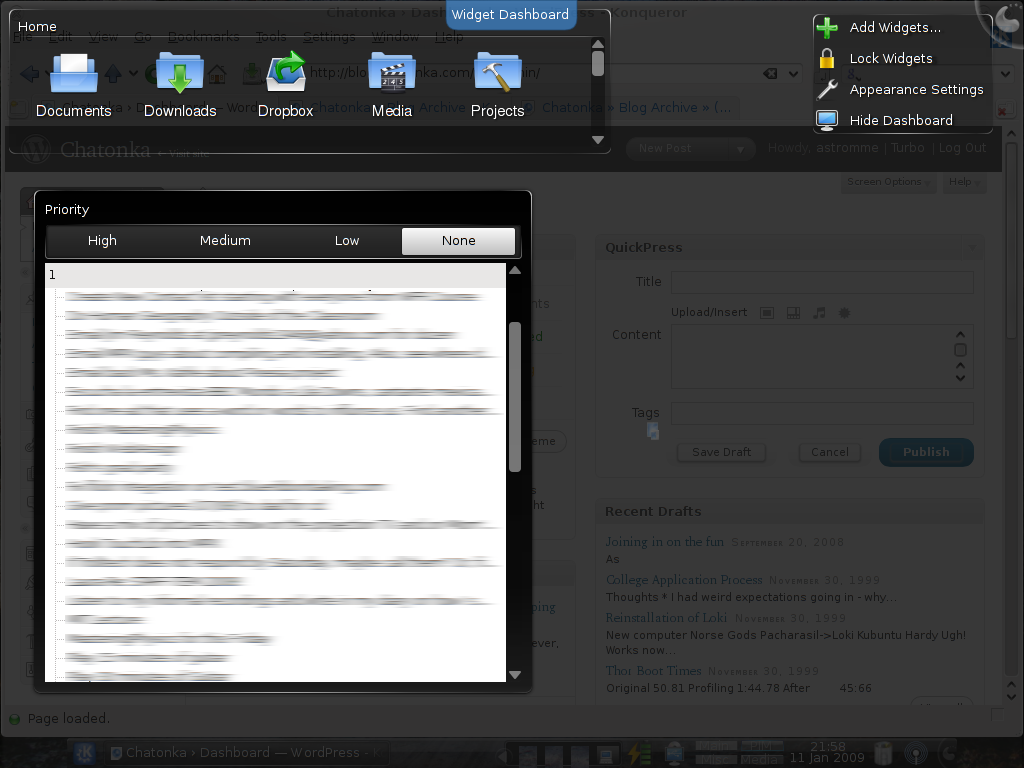 Next up… TimeVault. I've been letting it (and the ideas behind it) simmer for a while, but after my finals are finished in early May I want to get back into the thick of development. It's about time, KDE needs an integrated backup solution